DAME Symposium
What exactly is Artificial Intelligence (AI), what are the possibilities of AI in medical imaging and what does it deliver? Those are some of the questions that the partners of the DAME project, funded by Interreg, tried to answer. During a one-of-a-kind online DAME symposium on the 29th of June, scientists and experts from various medical centers within and outside the Netherlands will address these questions by bringing science and practice together.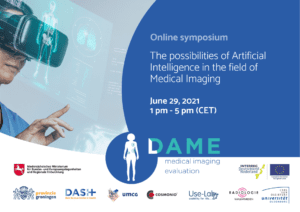 With a mix of interactive presentations, videos and Q&A the symposium provides an excellent and easy-to-understand overview of Artificial Intelligence in the field of Medical Imaging.
Programme
Date: Tuesday, June 29, 2021
Time: 1 pm – 5 pm (CET)
The full programme will be announced soon.
This symposium is free of charge, registration is now open.